First of all, i would like to clarify that i'm not responsable for any damage you can cause to your equipment "playing" with the shell access to your O!Play. Try this at your own risk….
Ok, so Asus had released had released FW 1.27 at its FTP and removed and appearead again and now… it's not there.
In fact some users have download it, and put it over internet in servers like MegaUpload. In order to get some links just visit Asus support forum.
Okay, in this the main goal was NAS support announced before in the forums by someone from Asus. Until now only one person in the forums talked about this. That's a MAc user which sees Venus in their network.
After testing this new firmware some differences may arise, specially support for RSS, TVS and Radios more organized. A DVD option appear, but not explored by me until now.
OK, stop the talk, and the goods.
Venus is acessible from Telnet with a Telnet client like the usual in Windows. In Windows Vista and Windows 7 telnet is not installed by default so you can install it, or use a telnet cliente like Putty. Just find your O!play Ip and that's all you need.
After that just telnet into the box. Username root, no password.
We can see some ports open, but no NAS running by default. To enable it i just launched Samba by running the following commands:
cd /tmp/package/script
./configsamba
./samba start
(the /usr/local/bin/package/samba/sbin/smbd was used before, but thanks to @FarVoice now all should be using the commands above)

After this doing a "netstat -a" we can find it listen 🙂
After this just open it in Windows from network by simpling open it as a share, just like this : \\192.168.1.67 (this is my internal IP in my O!Play) and put some files in it. If you user another Operating System like linux or mac i assume you know how to do this.
Since the nmbd service is running you should also acess your O!Play with \\venus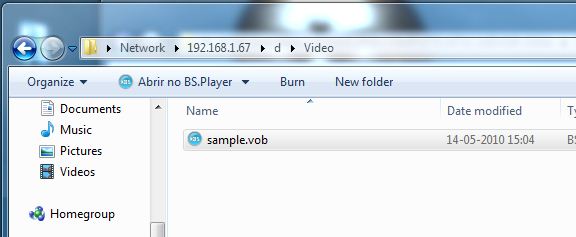 I will try to figure how to get this running if  you reset it/power it down…. but for now we know that's possible to use it as NAS… well… nor a real NAS, but it's a share acessible in the network. No security but, what can you expect from a simple device that root user don't have a password ?