Hoje recebi um alerta que achei importante. Um email no meio de tantos outros mas que fui verificar.
O serviço Sports Tracker da Nokia, que permitia a quem tivesse um Nokia com Gps guardar o seu percurso, e fazer umas stats mais engraçadas foi descontinuado.
A boa notícia é que em sua substituição irá haver um novo, Nokia non related (mais ou menos). O Sports Tracker é o novo serviço, e que segundo se pode ler:
Key facts

· Sports Tracking Technologies was founded 2009 by Ykä Huhtala, Jussi Kaasinen and Antti Sorvari, after a successful spin-off from Nokia
· Headquarters in Helsinki, Finland
· Nokia Sports Tracker beta was released in 2007 by Nokia and it has millions of users worldwide
· Sports Tracker for Nokia S60 5.0 touch phones was released by Sports Tracking Technologies in April 2010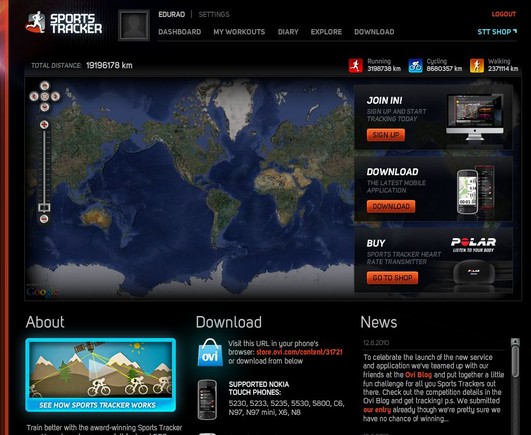 Ou seja, para mim não deixa de ser mais do mesmo, e o que me deixa algo preocupado é que algo que até agora era simples e gratuito, poderá eventualmente num futuro ser um serviço comercial, dado que se não é subsidiado pela Nokia o dinheiro deverá ter de vir de algum lado.
Por outro lado a plataforma ao ser Non Nokia related passará a estar no futuro disponível para outros utilizadores, pelo menos assim fará sentido.
Mas claro, o facto de um dia ser um serviço pago, poderá acabar com o modelo. A não ser que se sustentem de publicidade, por muito bom que seja o Open Source e as suas tecnologias, têm de haver dinheiro para as pessoas dos projectos viverem… sem isso acontecer o mundo não gira.
Portanto, para quem já usava o Nokia Sports Tracker têm até 31 de Agosto para importar os seus percursos para estava nova ferramenta, depois provavelmente… esqueçam-nos.