Foi na passda Quinta feira dia 3 Maio 2012 que o Damian Conway deu uma pequena palestra no Fórum Picoas, uma palestra de cerca de duas horas e meia proporcionada pelo Sapo e pela Caixa Mágica.
Confesso que não conhecia, mas dado o tão bem que falavam dele, e por ser um evento gratuito decidi ir, apesar de Perl não ser própriamente a minha praia.
O tópico da palestra não ajudava, e enquanto despertou a curiosidade de uns (eu por exemplo) deve ter afugentado mais uns quantos:
Temporally Quaquaversal Virtual Nanomachine Programming In Multiple Topologically Connected Quantum-Relativistic Parallel Spacetimes…Made Easy!
The abstract:
Watch in terror as Damian writes a Perl program to extract square roots using nothing but quantum mechanics, general relativity, and the very fabric of the space-time continuum.

Along the way we'll also investigate: Wittgenstein's dark secret; the diminishing returns of physical computation; Roman philosophy; when Super Science Adventures go wrong; the greatest Lego kit of all time; the secret identity of Sith; carbon logic vs silicon logic; the giants of 1930′s physics; elementary spin-half quanta under relativistic motion; CAT scans; Will Smith; bongos; drunken bets involving penguins; algorithmic consistency; God's dice and the problem of free will; intrinsic self-inconsistency; the many worlds outside Copenhagen; and the inventor of stage diving.

What happens when Dirac meets Deutsch meets Damian? Mere anarchy is loosed upon the world!
E assim foi: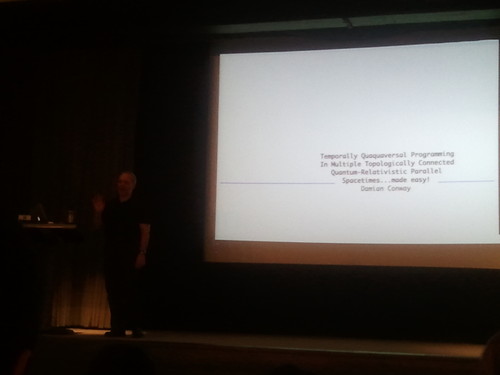 Confesso que por momentos cheguei a pensar que aquilo não era nada mais de que uma apresentação de powerpoint, ou um vídeo bem montado que permitia ter aquele efeito espetacular. Ele próprio começou a palestra a falar de várias coisas que eram algo caricatas e propensas á risota, mas como ele bem disse "i'm pretty good at doing geek humour" … e pela sala ouviam-se uns quantos mais geeks efetivamente a rirem em grande estilo.
"Larry Wall does not age" foi do que colocou mais a plateia a rir com as divagações e pequenas teorias de "conspiração" acerca da verdadeira idade do Larry.
(Imagem descaradamente roubada daqui que esta não apanhei!)
Efetivamente a partir de um determinado momento as coisas começaram a fazer algum sentido, sendo que este pequeno programa feito usando Rod Logic em Perl teimava em não ajudar, mas fazia sentido. Mas ele próprio no final disse que não fez: "sou programador, fiz um programa para escrever aquele código" respondeu ele a alguém na plateia que lhe perguntava se ele efetivamente tinha escrito aquilo!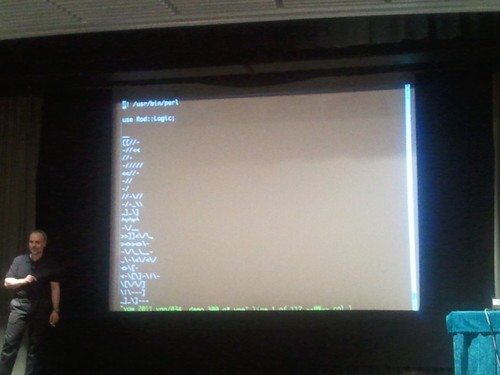 Valeu a pena, deu para conhecermos este Guru do Perl, e excelente orador. Numa palestra que misturou humor, fisica, programação e serviu para abrir os horizontes.