Participei este ano no Codebits pela primeira vez: fantástica a experiência. Ainda irei contar um pouco mais e meter mais fotos.
Participámos também com um projecto, um projecto na área de domótica – Home Automation com Arduino!
Constitui equipa com o Eduardo Balsa, Nelson Antunes, e o Vasco Pinheiro.
O main goal era "Create a project to aquire some data readed at your home with an Arduino Uno. The arduino will publish that information to a backend , and the info will be available through web and in an android app. Mixes electronics, arduino, php, ,c#, ip video, and makes possible to control some stuff remotely."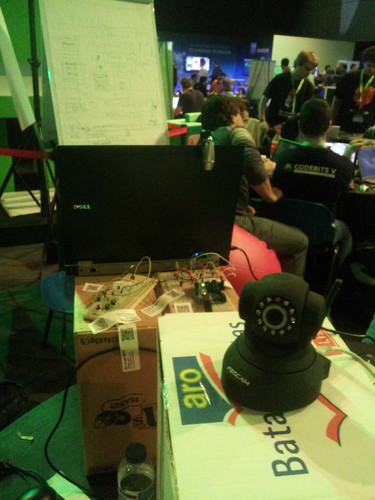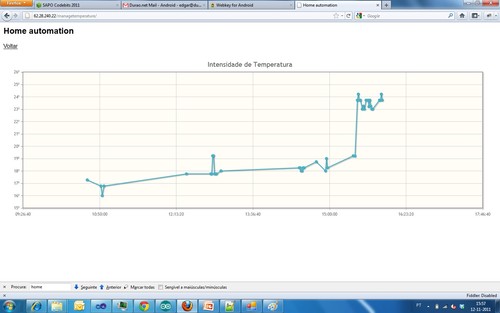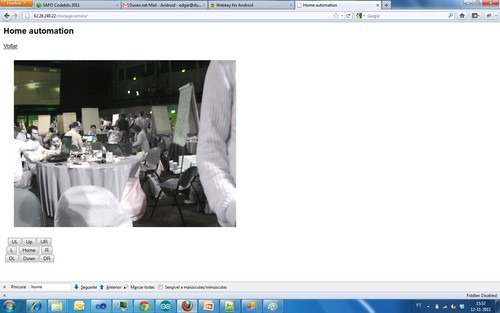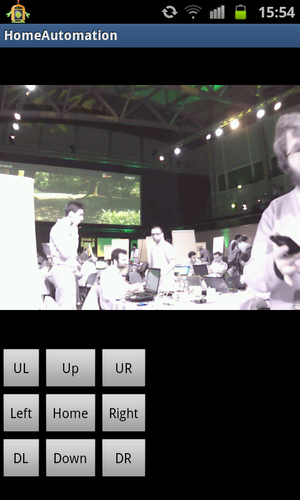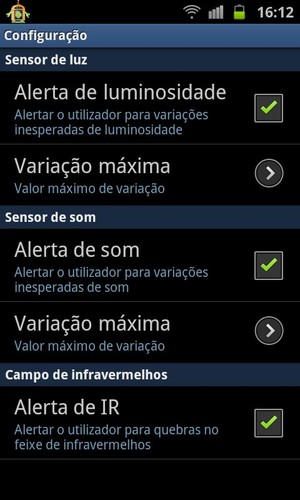 Espectacular!
Conseguimos colocar o sistema a funcionar, com controle de três pontos de luz, e dois estores (simbilizados por leds numa bread board), controlados via uma consola desenvolvida em C# que lia da porta série (o Filipe não tinha shields ethernet para o arduino, que era a ideia inicial), e consola essa que com uma API REST em PHP registava todos os dados sensoriais recolhidos, e era responsável ainda pelo tratamento dos pedidos via interface web, e aplicação android. Os dados sensoriais recolhidos eram temperatura, luminosidade e som. Tinhamos ainda uma barreira IR, mas infelizmente queimei aquilo durante a madrugada… so no use for it.
Para complementar tudo isto tinhamos também uma camera IP motorizada, e direccional, que publicava a stream de imagens na web e android, sendo também controlada as direcções controladas via web e android. Esta camara ficou no centro da nossa mesa durante Sexta/Sábado a fazer stream 😛
Não ganhámos nada, mas foi fantástico. Consegui também com este projecto dar o major step que é implementar este projecto cá em casa. Consegui assim concluir que é exequível. Vejamos o que o futuro traz. Espero falar mais disto por aqui.
E parabéns a toda a equipa do Sapo / Codebits pelo evento – 3 dias espectaculares. You rock guys!
Mais fotos do Codebits nos próximos dias.